Visuals
American debt to exceed GDP in 2021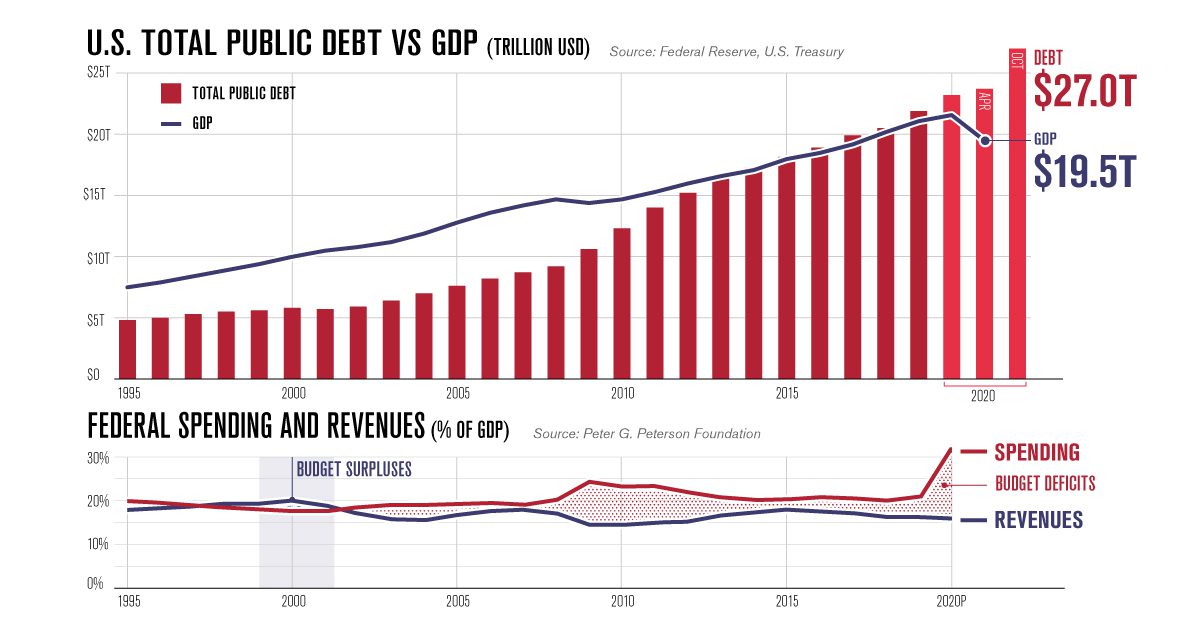 February 26, 2021 - 12:00 pm
The United States is projected to hold about $21 trillion in debt in 2021, and that number is expected to increase to $32 trillion by 2030. A $1.9 trillion stimulus bill represents a fraction of that increase, although White House officials have also discussed trying to approve a multitrillion-dollar infrastructure package later this year. The CBO projections also assume the expiration of numerous provisions of the 2017 GOP tax law aimed at the lower and middle class by the middle of this decade.
Marc Goldwein, senior vice president at the Committee for a Responsible Federal Budget, which pushes for deficit reduction, said lawmakers face a long-term challenge in getting spending and deficit levels to balance. That is not something that hinges on the precise size of Biden's stimulus package, Goldwein said.
"Even without the $1.9 trillion [stimulus], we will be at record-high debt levels" in a few years, he said. "Realistically, it's going to come much sooner than that."
Source: Washington Post
Heatmaps showing opioid sub-epidemics by demography and urbanicity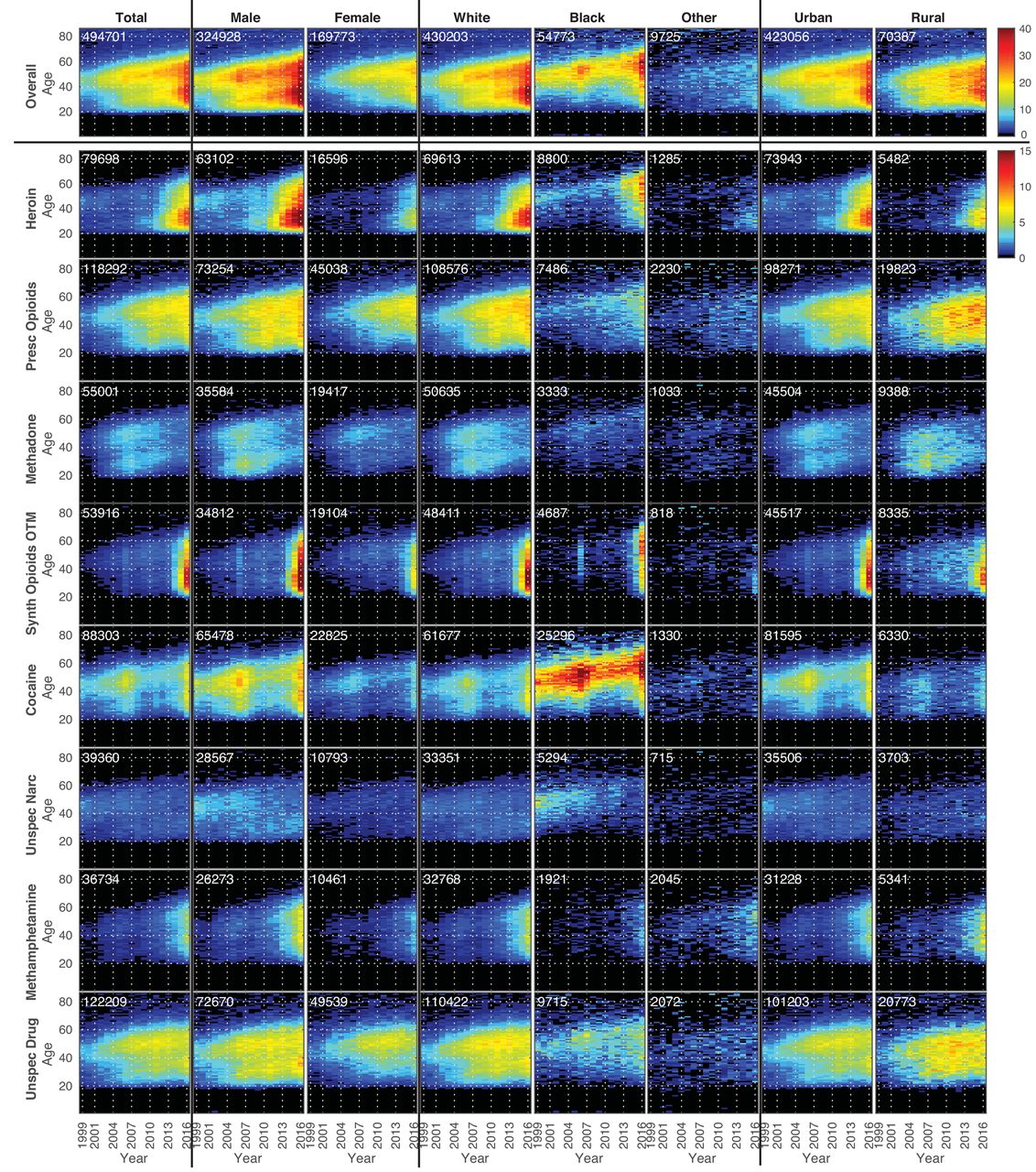 February 21, 2021 - 1:16 pm
Total number of deaths in each category from 1999 through 2016 are shown in the upper left corner of each plot. The colors indicate age-adjusted mortality rates per 100,000 people. (Synth Opioids OTM: synthetic opioids other than methadone. This category includes fentanyl and its analogs.)
Nations Pay Wildly Different Prices For Vaccines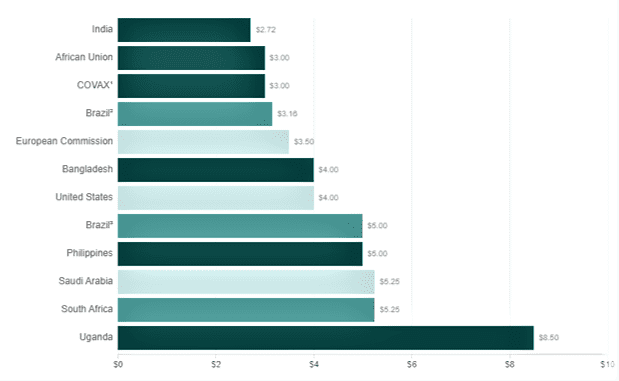 February 20, 2021 - 7:32 am
In an ideal world, the price of a vial of vaccine would be consistent across the globe.
But at this stage of the vaccine rollout, it's difficult to find out basic facts – like, how much a vial costs. Companies are keeping exact prices a secret.
To bring more transparency, UNICEF has compiled a chart of how much countries and nonprofit groups are paying for doses, drawing from local news reports, reporting by Reuters and documents obtained from various sources.
There's a significant range in price because some vaccines are more expensive to produce than others.
But even for the very same vaccine – the AstraZeneca vaccine touted as one of the most affordable in the world – there are notable differences.
Source: NPR
Timing social distancing to avert unmanageable hospital surges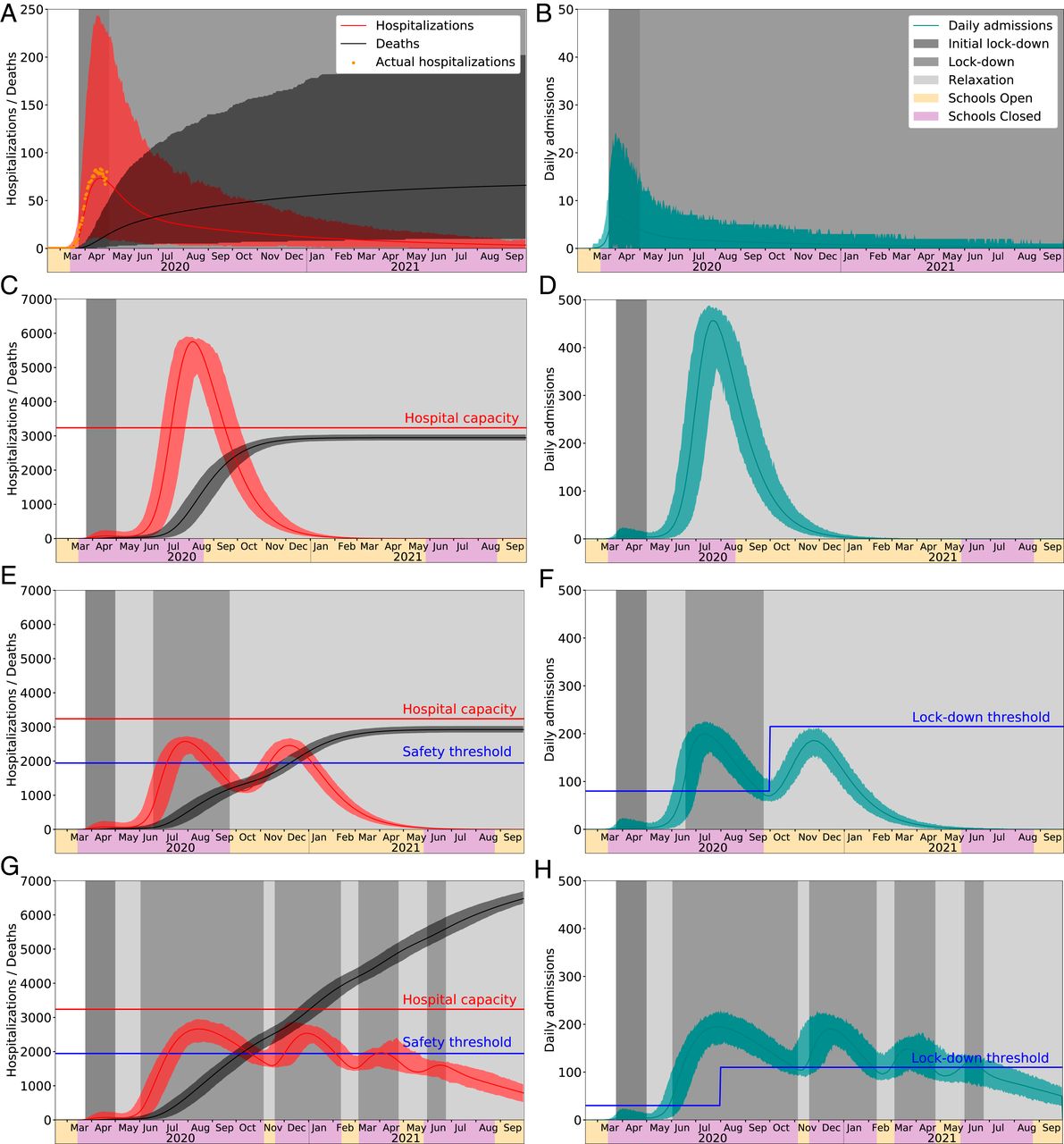 February 13, 2021 - 7:19 pm
How can we best mitigate future pandemic waves while limiting collateral economic damage? As COVID-19 social distancing measures are relaxed across the United States, temporary shelter-in-place orders triggered by monitoring local hospital admissions can minimize the number of days of disruption while preventing overwhelming healthcare surges. We develop a mathematical optimization model on top of an SEIR-style simulation model with age group, risk group, and temporal fidelity. This work has been in response to independent requests from the city of Austin, the state of Texas, the Centers for Disease Control and Prevention, and the White House Coronavirus Task Force to inform strategies for modulating social distancing policies.
Source: National Academy of Sciences
Funding allocation in 2020 predicts post-pandemic trends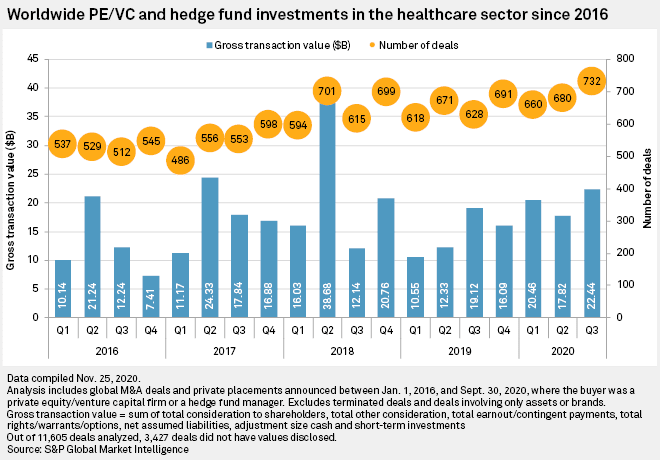 February 6, 2021 - 4:54 pm
If there is any doubt whether COVID-19 has changed the economy, simply look at the investment allocations for healthcare.
The COVID-19 pandemic drove investors in most regions to focus on companies aligned to the needs of people and businesses within the "new normal," including those focused on enabling remote working and home learning or enhancing online service capabilities.
The aggregate transaction value for the healthcare industry in 2020 was $60.72 billion based on 2,072 deals tracked by S&P Global Market Intelligence. Only industrials and information technology attracted more investment and raised $65.05 billion and $97.50 billion, respectively.
Biotechnology, which had the highest investment activity among healthcare subsectors in the first half of the year, held onto its lead and brought in about one-third of the total investment pool in 2020. Biotech businesses garnered $20.19 billion in investments based on 577 deals announced between Jan. 1 and Sept. 30.
Healthcare technology also saw strong investor activity in the third quarter and had raised $12.51 billion from 482 deals in the three quarters ending Sept. 30 — second-highest among all healthcare subsectors in 2020.
Healthtech had 273 deals in the first half of the year, bringing in about $3.47 billion and landing fourth behind biotechnology, pharmaceuticals and healthcare equipment during the first six months.
Health and biotech were big bets for venture capital investors in the third quarter and investments in these sectors will likely remain very high, along with investment in financial technology, business productivity solutions and digital platforms, according to KPMG Private Enterprise's Oct. 21 report.
Source: S&P Market Intelligence
Updated probability adjusted model predicts longer tail for herd immunity

January 30, 2021 - 7:19 pm
More transmissible variants and slower rollout of vaccines increase downside risk to herd immunity timeline. Issues include manufacturing and supply chain problems, more infectious variants, slower adoption for vaccines, vaccines proving to be less effective in reducing meaningful transmission.
More cell and gene therapy start-ups than ever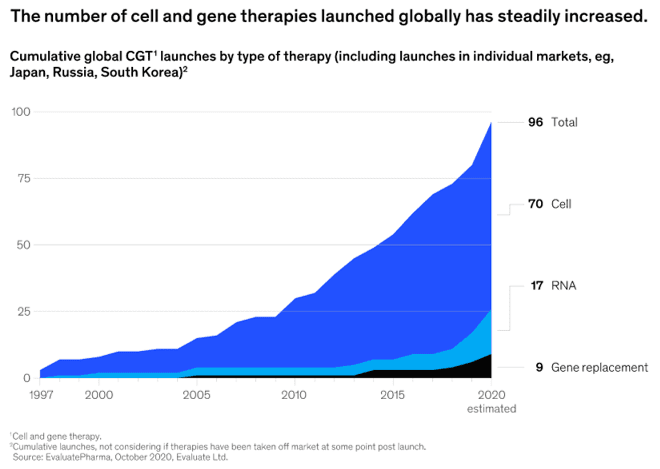 January 23, 2021 - 3:19 pm
Cell and gene therapies offer treatment, and sometimes cures, for patients with serious, often rare, and never-before-addressed diseases. And many more have become available in recent years—more than 75 launched worldwide in 2019, and 96 new ones were on track for the end of 2020.
Source: McKinsey & Co.
COVID-19: An Adaptive System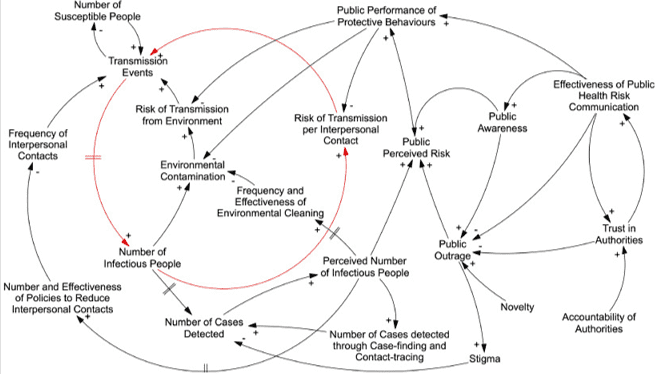 January 17, 2021 - 5:43 pm
Systems thinking can help policymakers understand and influence the spread of infection and its multifaceted consequences across the community since society is itself a complex adaptive system. It can provide a framework to look beyond the chain of infection and better understand the multiple implications of decisions and (in)actions in face of such a complex situation involving many interconnected factors. Causal loop diagrams (CLDs) are tools to depict the causal connections between components of a system, and illustrate how changes in one component cascade in changes in others and back to itself, via feedback loops, potentially affecting the status of the entire system. The figure presents a simple CLD as an example of some important interacting components in a society that is responding to the threat of COVID-19.
A reinforcing feedback loop is responsible for causing exponential growth in the number of infected people (in red). However, the risk of transmission (often expressed as the basic reproduction number, R0) is seen to be a factor of the context, not simply a characteristic of the virus, resulting from a long chain of dynamic interactions involving components otherwise seen as distant or disconnected, such as the public's trust in authorities and stigma.
Risk communication influences people's capability and motivation to perform protective behaviors. However, public alarm about a novel hazard and low trust in authorities may result in 'outrage'. In our illustrative CLD, this may give rise to stigma, reducing detection of infectious people, and therefore reducing the intensity of individual and societal responses. As the novelty of the situation declines, so may outrage, risk perception and individual protective behaviors.
Source: Lancet
Path to Herd Immunity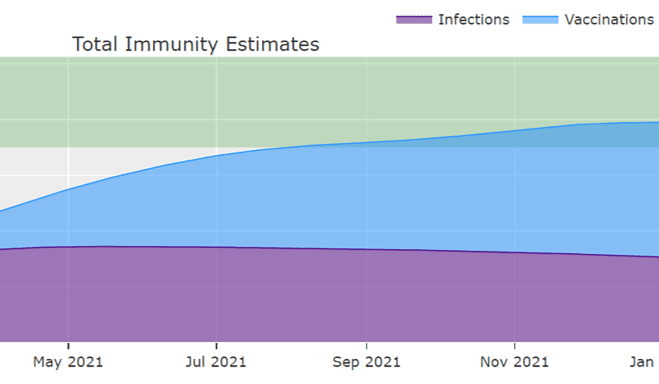 January 10, 2021 - 5:11 pm
COVID-19 Projections machine learning team cites the following notes in their live analysis of herd immunity in the United States.
Key briefing notes include:
Path to Herd Immunity: 2021 Outlook of COVID-19 in the US
We estimate COVID-19 herd immunity (>70% of population immune) will be reached in the US during summer 2021 (Jun-Aug 2021). At a high level, herd immunity is a concept in which a population can be protected from a virus if enough people possess immunity.
At the time herd immunity is reached, roughly half of the immunity will be achieved through natural infection, and the other half will be achieved through vaccination.
New infections may become minimal before herd immunity is reached. But due to imported cases and localized clusters, it is unlikely that new infections will drop to zero until at least 2022.
Deaths may drop to low levels even earlier (May-Jul 2021), in part due to a vaccine distribution strategy that initially prioritizes high-risk individuals. Once deaths fall to minimal levels, we may see a relaxation of restrictions.
Summarizing the above findings, our best estimate of a complete "return to normal" in the US is mid-summer 2021 (June/July 2021).
We estimate roughly 80% of the US population (~265 million) will receive at least one dose of the vaccine by the end of 2021, with children and adolescents being the last group to receive it (Aug-Nov 2021).
We estimate around 35% of the US population (~120 million) will have been infected by the SARS-CoV-2 virus by the end of 2021. That is an additional 55 million infections since mid-December 2020.
This translates to a final US COVID-19 death toll of roughly 600,000 (±100,000) reported deaths, or ~300,000 additional deaths since mid-December 2020.
Source: COVID-19 Projections
https://covid19-projections.com/path-to-herd-immunity/
COVID-19 in January 2021


January 4, 2021 - 7:25 am
We have an opportunity to reach the peak of this current wave by the end of January if we can continue to expand vaccine roll-out and maintain public safety measures. If not, we may not see the peak of this current wave until March.
Daily Reported COVID-19 Cases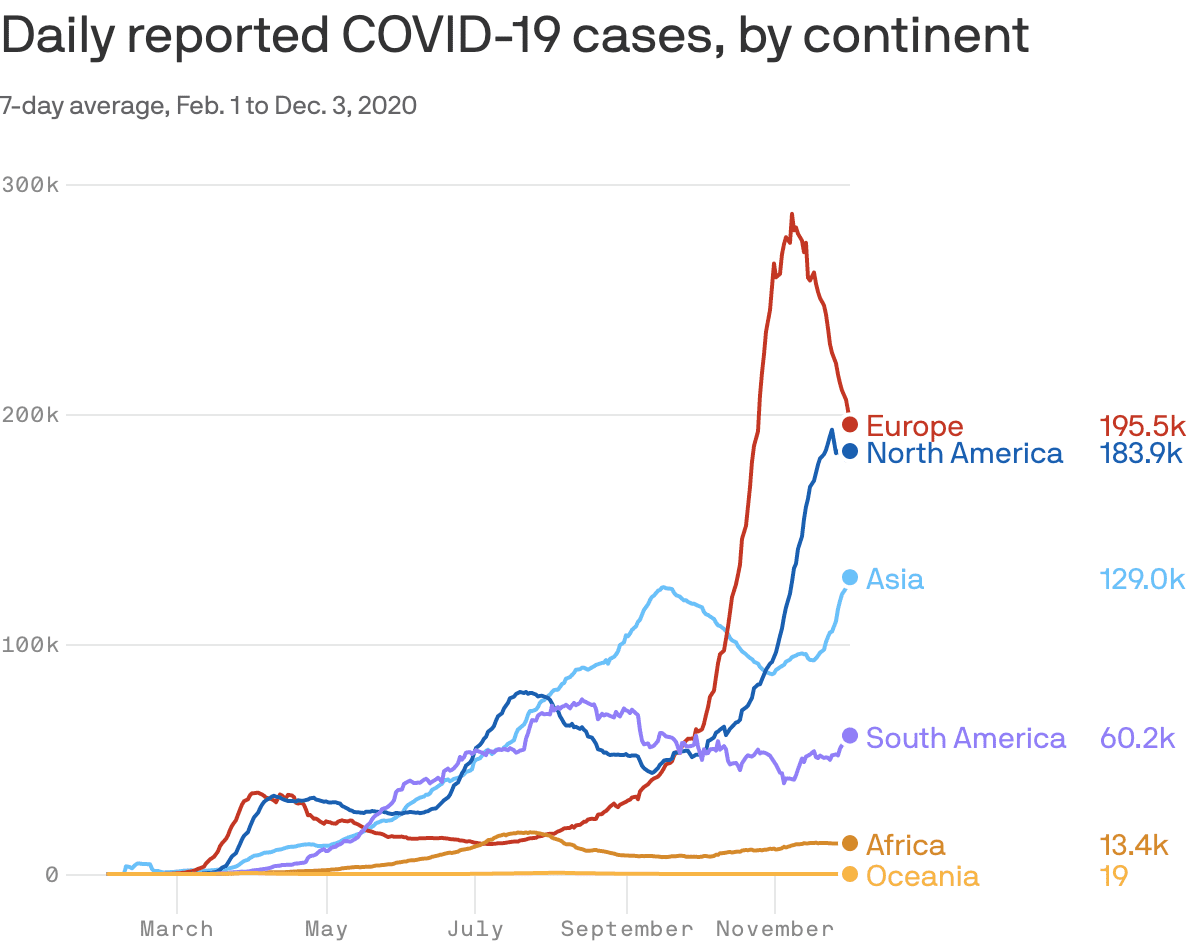 December 6, 2020 - 2:47 pm
Europe seems to have turned the corner on their most recent upswing in cases. But if past patterns hold true, this forewarns the next upswing in cases in the United States.
IHME Timeline of Weekly Cases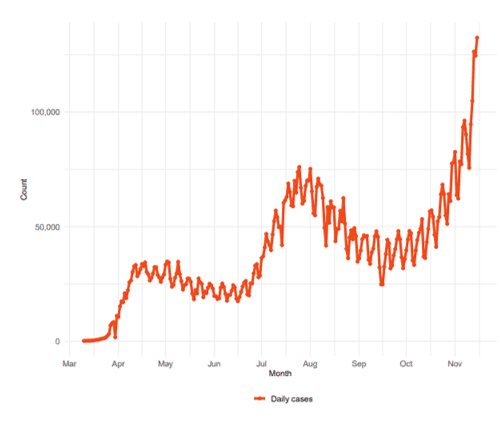 November 27, 2020 - 7:40 pm
Cases in the United States are increasing, and increasing at an unprecedented rate – portending an increase in the number of cases and overall mortality in the months of December and January.
The Distribution of New Cases in the US has Shifted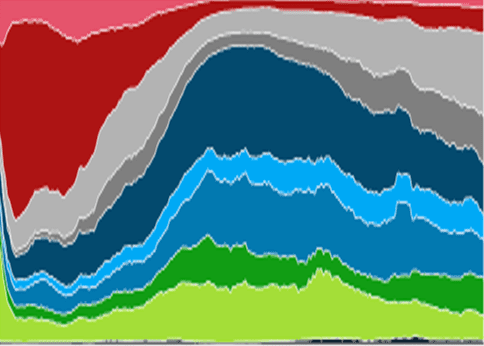 November 23, 2020 - 6:48 am
The distribution of new cases in the US has shifted from the Northeast to the Southern and Western states.
Pink – The Northeast includes New England (MA, CT, RI, VT, NH, ME).
Maroon – Mid-Atlantic states (NY, NJ, PA).
Light Gray – East North Central states (MI, OH, IN, IL, WI).
Dark Gray – West North Central states (MN, IA, MO, ND, SD, NE, KS).
Navy Blue – South Atlantic states (WV, MD, DE, VA, NC, SC, GA, FL).
Baby Blue – East South Central states (KY, TN, MS, AL)
Sea Blue – West South Central states (TX, OK, AR, LA).
Dark Green – Mountain states (MT, ID, WY, NV, UT, CO, NM, AZ)
Light Green – Pacific states (CA, OR, WA).
Source: John Hopkins, McKinsey & Co.
Projected Demand for Hospital Resources in Early 2021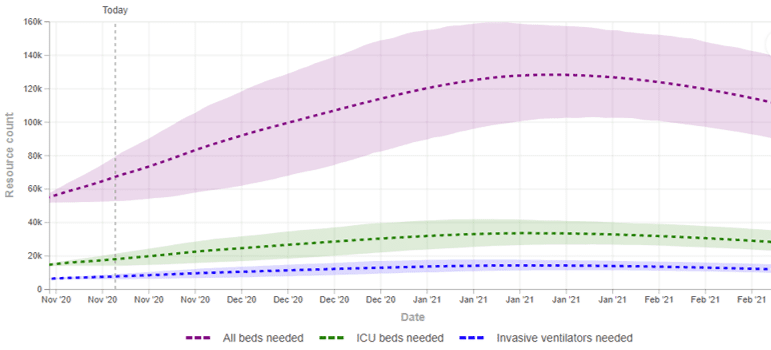 November 17, 2020 - 12:16 pm
Demand for hospital resources are likely to increase by the end of January 2021 – with a distinctly sharper rate of increase for hospital beds relative to ICU ventilators and other equipment needed for critically ill COVID-19 patients.
This suggests that while cases are rising, the ratio of critically ill cases to total cases will be lower than in the initial surge seen in the early parts of 2020.
Aggregated COVID-19 Forecasts for November, 2020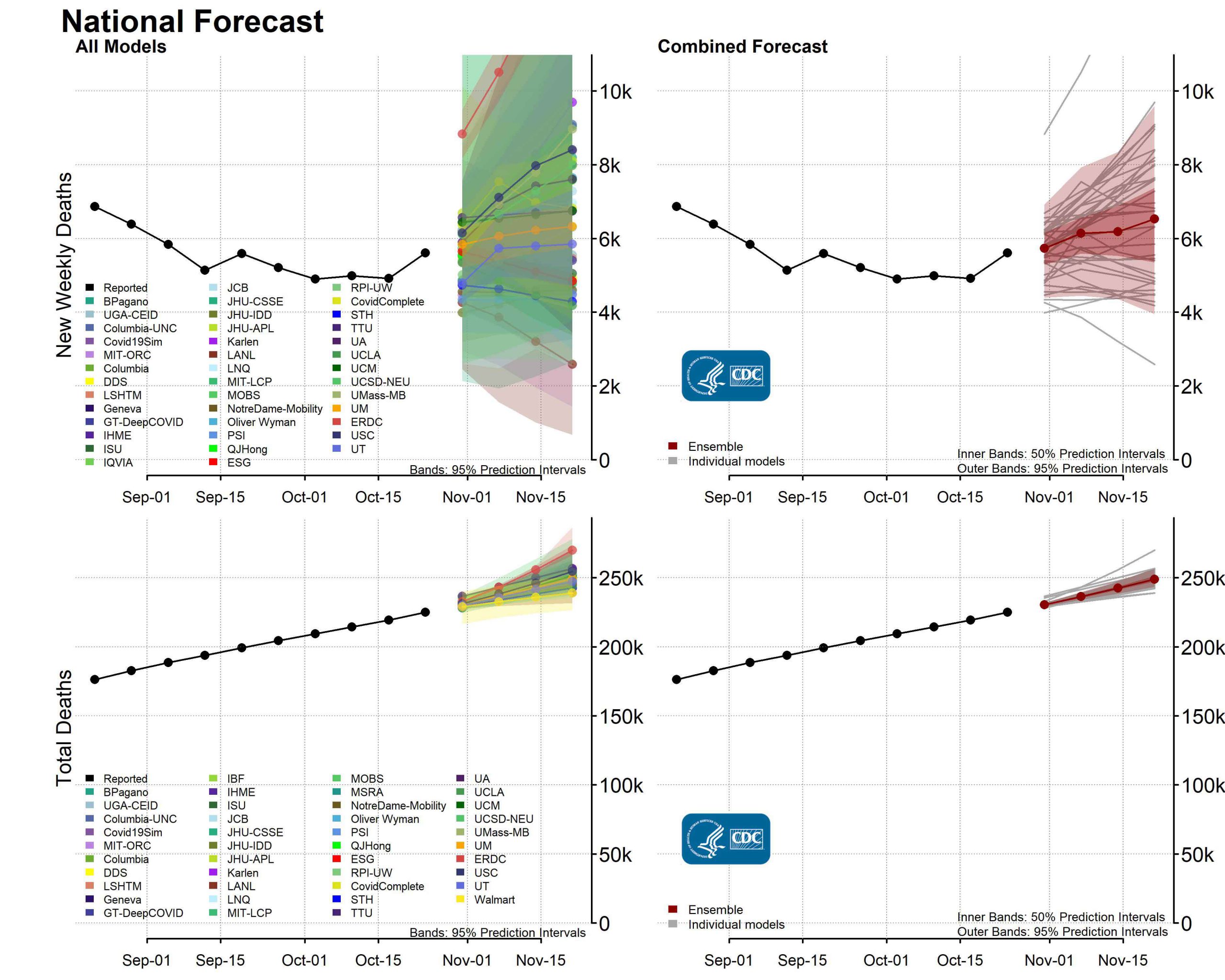 November 2, 2020 - 7:30 pm
The CDC received forecasts of COVID-19 deaths over the next 4 weeks in November from 47 modeling groups. Of the 47 groups, 42 provided forecasts for both new and total deaths, three groups forecasted total deaths only, and two forecasted new deaths only. The national ensemble forecast indicates an uncertain trend in new COVID-19 deaths reported over the next four weeks and predicts that 3,900 to 10,000 new deaths will likely be reported during the week ending November 21, 2020. The national ensemble predicts that a total of 243,000 to 256,000 COVID-19 deaths will be reported by November 21, 2020.
Sensible Medicine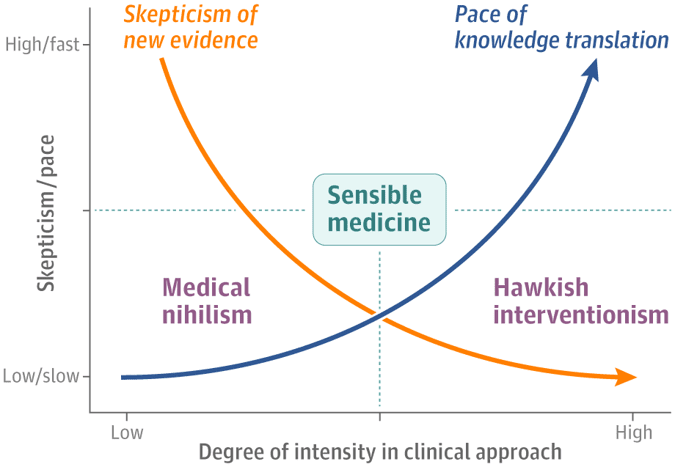 October 20, 2020 - 12:40 am
Sensible medicine is an approach to treatment that seeks a balance along the spectrum of the strength of evidence and the pace of knowledge translation. On one hand, a hawkish interventionist has little doubt about the effectiveness of a new treatment and rapidly adopts it into practice. There is a tendency to favor adoption of the new, acceptance of less rigor in research methods and results, and a glance away from subconscious biases. This contrasts with the medical nihilist who is highly skeptical of new evidence and hopes to intervene even less. The medical nihilist is certain of the futility of treatment, ineffectiveness of most medications, and corrupting influence of financial incentives. In the middle is a sensible approach, which acknowledges that some interventions are effective but, perhaps, confidence should be tempered. With sensible medicine, the translation of knowledge to the bedside is appropriately calibrated to the rigor and reasoning of the available evidence and the severity of the outcome to be avoided.
Value Creation in VC Funds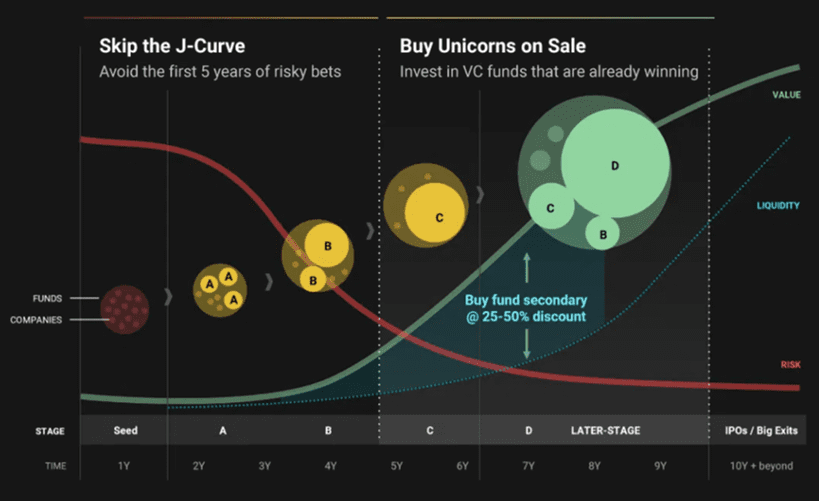 October 13, 2020 - 11:14 am
PVC, a sort of funds of funds when it comes to venture capital funds, has beautifully captured a value creation opportunity in venture capital fund investments.
"Because portfolio companies are already established and growing, buyers have a better sense of what they're getting for their money – they aren't investing in a "blind pool" of unknown future assets. After five years or more, successful VC funds should have established winners at Series B or C and perhaps even early exits and distributions. Seeing the first few years of performance in the rearview mirror provides insight into how well the fund manager is doing and how well the fund is likely to perform in the future. Again, it's kind of like checking the score at halftime to see which team is ahead."
But their model assumes a particular growth pattern underlying the growth of the portfolio startups. Something distinctly not present in the heavily regulated world of healthcare startups. Value creation for healthcare focused funds, therefore, should focus more on the relationship between the regulators and innovators, and draw growth patterns focused more on the dynamics of that relationship than the dynamics of intrinsic portfolio company growth.
IHME Extends COVID-19 Projections to February 2021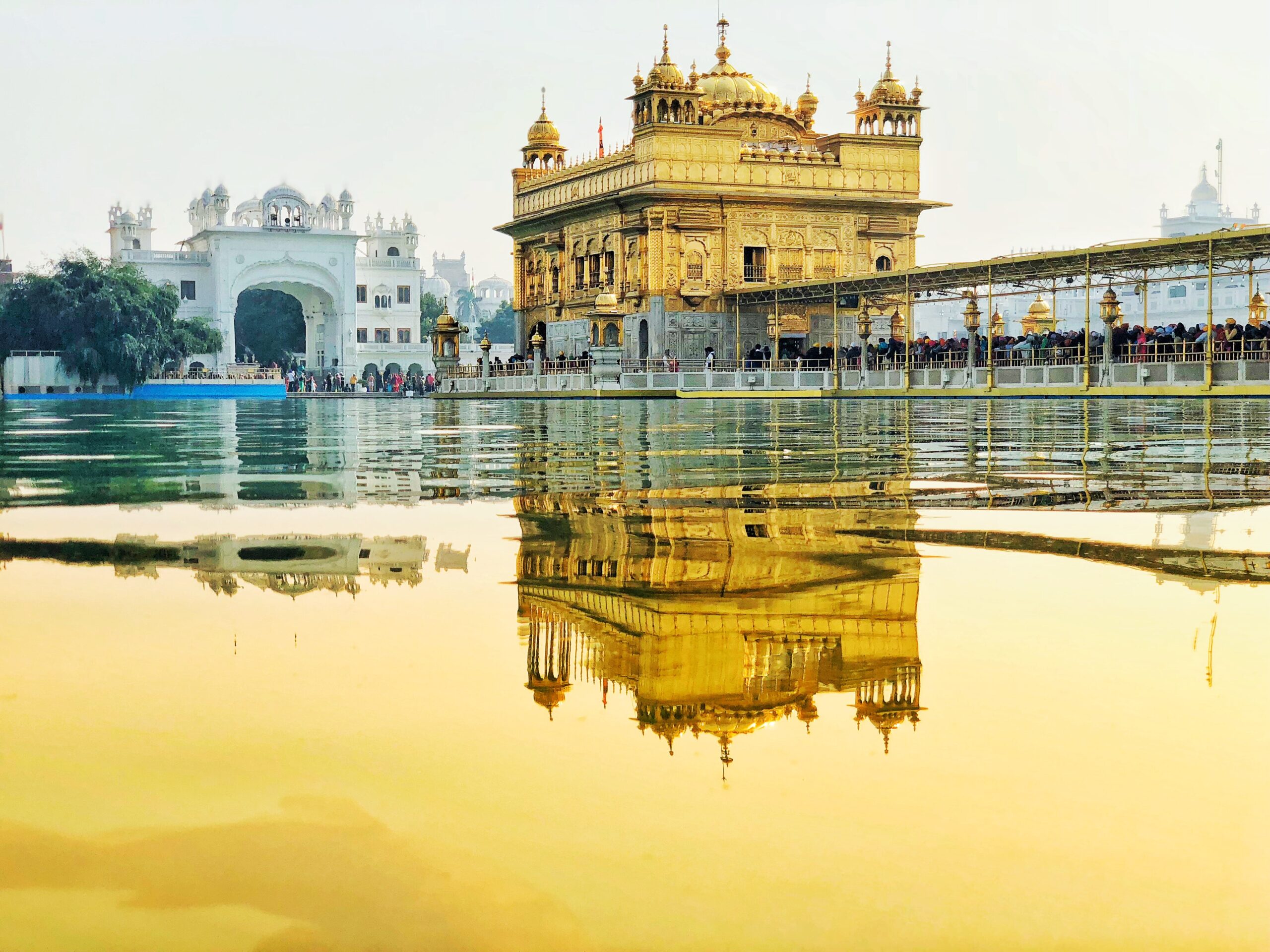 October 11, 2020 - 11:43 pm
Researchers at the University of Washington's Institute for Health Metrics and Evaluation (IHME) released new numbers, updating its COVID-19 death toll forecast through Feb. 1, 2021, in the U.S.
The U.S. has seen daily deaths increase slightly to about 750 per day since August, and the newest model shows that number climbing to nearly 2,900 daily by the end of December, bringing the total deaths to about 363,000.
According to Johns Hopkins University, deaths are forecast to total 395,000, an increase of 181,000 from today's current total of 214,000.
But if mask use is increased to about 95%, overall deaths could drop to 316,000, saving 79,000 lives through Feb. 1.
IHME is forecasting a peak of 2,300 deaths daily in mid-January. But with 95% mask use, that number drops to under 1,400.
IHME is projecting about 2.5 million overall global deaths by Feb. 1, but that number drops to 1.7 million if there is 95% mask use.
And global daily deaths are forecast to peak in mid-January at just over 17,000 per day but could drop to just under 7,000 if mask use is at 95%.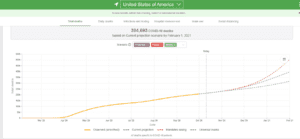 The Value of Universal Masking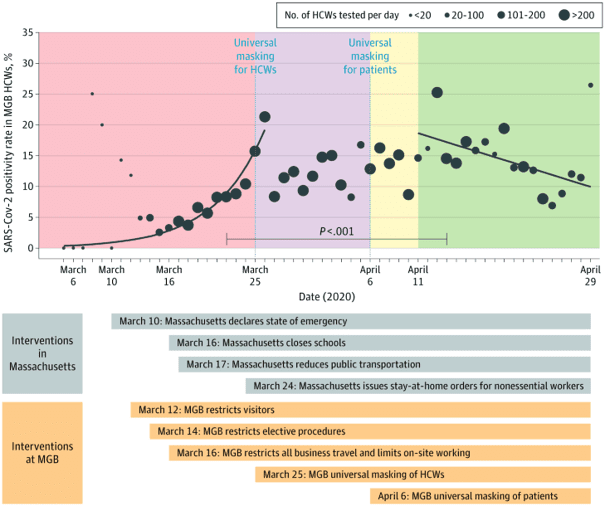 October 2, 2020 - 1:30 pm
Universal masking at Mass General Hospital was associated with a significantly lower rate of SARS-CoV-2 positivity among health care workers. This association may be related to a decrease in transmission.
However, randomized trials of universal masking during a pandemic are likely not feasible.
Nonetheless, these results support universal masking as part of a multipronged infection reduction strategy in health care settings.
Causal Reasoning Improves Medical Diagnosis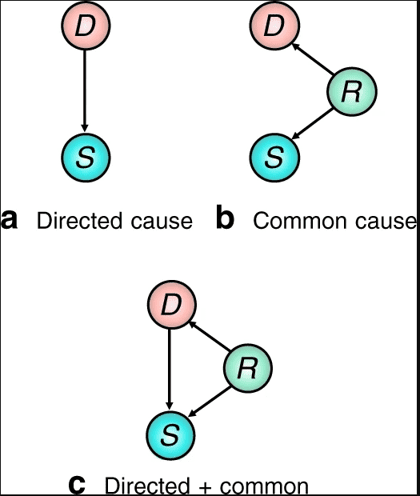 September 25, 2020 - 1:50 pm
As the development of medicine accelerates in the age of COVID-19, the methods and processes through which we conduct the most basic of clinical activities – diagnosing and treating patients – must advance as well.
Although machine learning algorithms show great potential in optimizing patient care, imaginative or associative patterns of learning are necessary in order for such learning algorithms to replicate the cognitive abilities of physicians.
The Sharpe Ratio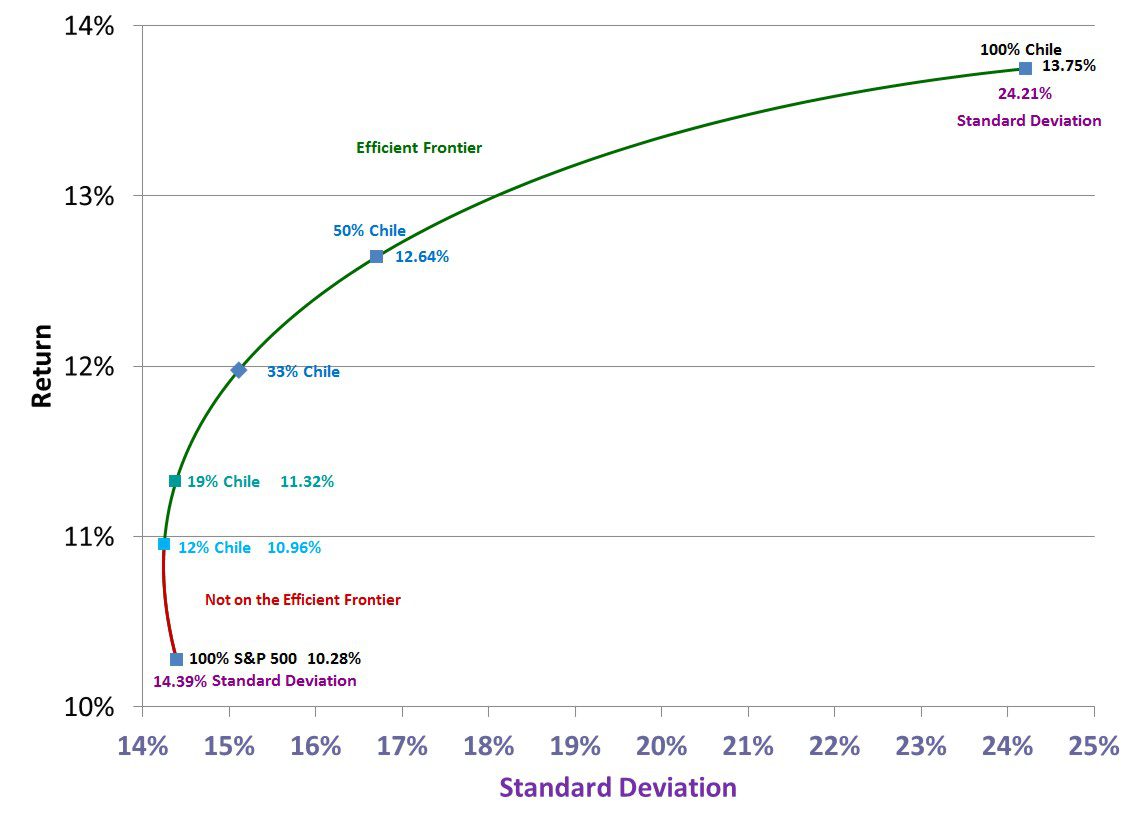 August 11, 2020 - 8:15 am
The Sharpe Ratio is used to help investors predict the anticipated financial return relative to the risk of an investment. But did you know this model can also predict high-risk behavior of patients with substance abuse?