Healthcare's disjointed labor needs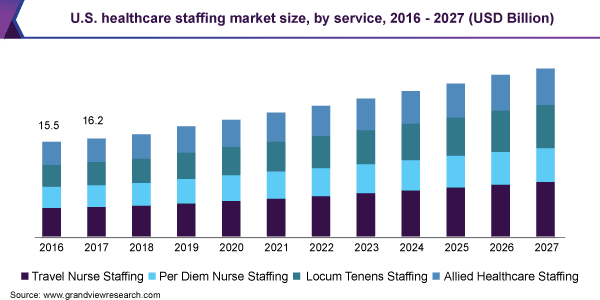 The U.S. healthcare staffing market size was valued at USD 17.0 billion in 2019 and is estimated to expand at a CAGR of around 5% over the forecast period. Some of the factors responsible for the market growth are increasing demand for temporary staffing for healthcare professionals due to the rising geriatric population and lack of skilled nursing staff across the country.
An increase in life expectancy has led to a rise in the geriatric population. According to the National Institutes of Health, the number of people aged 65 years and above in U.S. is projected to nearly double from 48 million to 88 million by 2050. An aging population is expected to have a significant impact on healthcare delivery because they are highly susceptible to lifestyle diseases and chronic conditions.
According to a report published on the National Center for Biotechnology Information, there will be a shortage of physicians and nurses in U.S. in various health specialty fields. Moreover, according to the Bureau of Labor Statistics (BLS), over the next decade, approximately a million new nurses would be required to fill the vacancies resulting from retiring nurses and to meet the increasing demand.
Technology is currently one of the major drivers for increased healthcare employment. Advancements in healthcare have led to various innovations, such as medical informatics and telehealth, which have increased the need for the skilled labor force to handle both technical and non-technical aspects of these devices. Hence, recruitment of new professionals along with training of existing ones has become essential.
According to a study published by the Center for Connected Health Policy, the number of telemedicine related legislation pieces introduced in the 42 U.S. states was 200 in 2015. The CMS is expanding Medicare coverage for telemedicine, for instance, in 2017, CMS declared reimbursement to Remote Patient Monitoring (RPM) service providers. These factors are anticipated to boost the demand for healthcare staffing for home healthcare.
Source: Grand View Research
Message Board